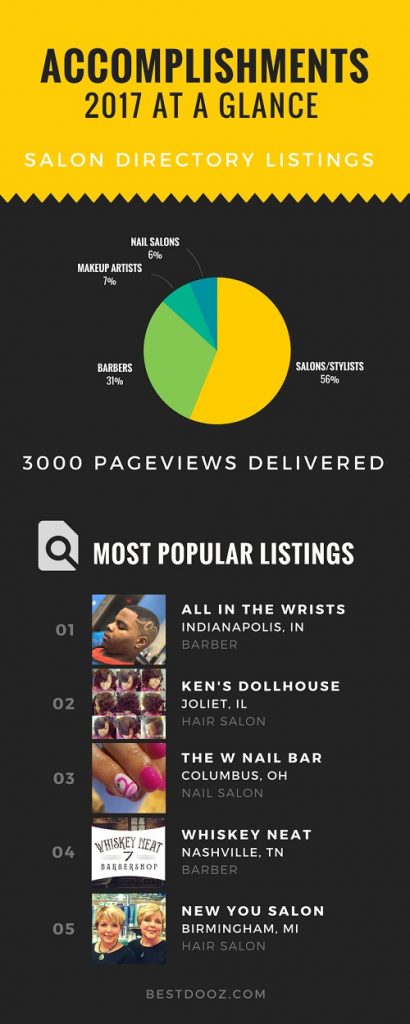 2017 – Yearly Review and Accomplishments
As the year ends, we took a look at our accomplishments and lessons learned in 2017.
Back to Basics
This year we reflected on the past and future direction of the company.  We examined what was working and what wasn't.  The challenge in letting go of projects that have not succeeded and moving on was hard, but necessary.  In the end, we retructured the organization to return to the basics from which we began.
We expanded our client base and included basic web design and hosting again in our services.   We were excited to work with a variety of non-profit organizations, a private school, and other small businesses.
This year we continued to work with a variety of beauty professionals across the country.  Our salon directory listings appeared in more than 260,000 search results on Google.  We also delivered 3,000 unique page views to the hair stylists, barbers, nail salons, and makeup artists listed on our site.
Where did time go?
A significant portion of the year was dedicated to restructuring Success Pro Publications, BestDooz and MyBestDooz.  This included upgrading our websites, and strategic planning for the future.  Although we fell short of our goals for expanding the salon directory, we are excited about our ability to better serve our clients in 2018.
New Category in 2017
We added Estheticians to the salon directory this year to expand the services available for referral.  We are looking for more talented professionals who specialize in skin care, hair and beauty.  Know someone who should be included?   Let us know.
What lies ahead?
Our goal is to help entrepreneurs succeed by providing support and resources.  Our core focus in 2018 will be to provide:
Personalized Consultations for Entrepreneurs
Free Marketing Tips and Resources
Podcasts, Training, and Webinars on Relevant Topics
Affordable Marketing Solutions
To learn more, visit our services.