We are committed to providing affordable website design and marketing solutions to help your business succeed. Success Pro Publications offers a variety of services and resources to help grow your business, both on and off the internet.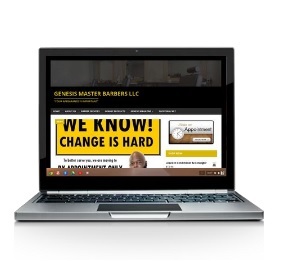 Genesis Master Barbers This barber client has combined services and products to present his clients with a clean and user-friendly experience. This client uses our secure SSL web hosting service to offer a secure shopping experience for their visitors.
They say the proof is in the pudding.  Check out some of our clients' reviews and results. "Some people talk the talk, but Lori Fisher gets thing done!! Lori I want to thank you from the bottom of my heart for my fully functional online store.  You took Asista Designs from one page to having links everywhere.  I promise you, I will tell anyone who will listen just how great you are.  Keep doing what you do and just watch how God blesses you.  Thank you for a job well done."
Check out our podcasts on Anchor.fm for free tips and advice for small businesses or contact us to learn more!